2nd Workshop on Speech in Noise: Intelligibility and Quality
Academic Medical Center
VU University Medical Center
Amsterdam
7/8 January 2010
Doelenzaal, Universiteitsbibliotheek (University Library)
Singel 421-427, 1012 WP Amsterdam
---
After the success of the previous workshop held in London in January 2009 that was attended by around 80 people, The 2nd Workshop on Speech in Noise: Intelligibility and Quality, was held in Amsterdam on the 7th and 8th of January, 2010. The event was be hosted by department of Clinical and Experimental Audiology of the Academic Medical Center, in cooperation with the department of Audiology of the VU University Medical Center and co-organised with University College London.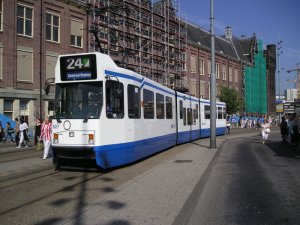 About 70 attendees, 14 posters and 12 excellent talks made the workshop a great success. The Drinks & Poster session gave the meeting a kick start and was followed by a day filled with oral presentations at a beautiful location in the city center of Amsterdam. Many attendees had their first experience with listening to speech in city noise as the local trams passed the venue.
Some of the authors have kindly made available their presentations.
Email enquiries to Rolph Houben.
Posters
Inge Brons, Rolph Houben & Wouter Dreschler (AMC): Perceptual effects of noise reduction
Monique Boymans & Wouter Dreschler (AMC): Interactive fitting using audiovisual simulations of real World
Pam Dawson, Stefan Mauger, Adam Hersbach, Komal Arora & John Heasman (The HEARing Cooperative Research Centre, Cochlear Limited ): SNR Based Noise Cancellation in Nucleus Cochlear Implants
Cees H. Taal, Richard C. Hendriks, Richard Heusdens & Jesper Jensen (TU Delft, Oticon): A New Objective Intelligibility Measure for Time-Frequency Weighted Noisy Speech
A. Warzybok, S. Hochmuth, M. Zokoll-van der Laan & B. Kollmeier (University of Oldenburg): New speech intelligibility tests for Spanish and Rusian
Anton Schlesinger & Marinus M. Boone(TU Delft): Speech intelligibility assessment in binaural and nonlinear hearing aids
Véronique Boulenger, Caroline Jacquier, Michel Hoen & Fanny Meunier (University of Lyon): Neural correlations of understanding time-reversed cheeps: an ERP study
Marjorie Dole, Michel Hoen & Fanny Meunier (University of Lyon): Effect of contralateral noise on energetic and informational masking during speech-in-speech intelligibility
Helen Nichols (ELE): Integrated solutions for Speech and Hearing; and physical context
Koenraad S. Rhebergen, Niek J. Versfeld & WouterA. Dreschler (AMC): An SII based approach to predict the speech intelligibility in fluctuating noise for normal hearing listeners
Marjolijn van Gelder, Koenraad Rhebergen & Wouter Dreschler (AMC): Speech Recognition at high speech & noise levels
Karolina Smeds, Niklas Bergman, Sofia Hertzman & Torbjorn Nyman (Widex ORCA Europe) : Noise reduction (NR) in modern hearing aids Long-term average measurements using speech
Gaston Hilkhuysen & Mark Huckvale (UCL): Within and across source modulation coherence after noise reduction
Finn Dubbelboer, Johannes Lyzenga, Rolf Jan Rutten & Tammo Houtgast (SpeechLab BV): Predicting and improving intelligibility of speech in noise
Talks
John Culling (Cardiff University, UK): Predicting speech intelligibility in noisy rooms
Tjeerd Dijkstra (Radbout University, NL): Individualizing noise reduction in hearing aids
Karolina Smeds (ORCA Europe, SE): Dynamic aspects of noise reduction in hearing aids
Cees Taal (TUDelft, NL): A new objective intelligibility measure for time-frequency weighted noisy speech
Rainer Huber (HörTech Oldenburg, DE): Objective measures of speech quality in hearing aids: Prediction of listening effort reduction by noise reduction algorithms
Mark Huckvale (UCL, UK): Performance based measures of speech quality
Johannes Lijzenga & Koenraad Rhebergen (VUmc &AMC, NL): Auditory model for the speech audiogram
Cas Smits (VUmc, NL): The digit-triplet speech-in-noise test: a new diagnostic test for assessing SNR loss
Fanny Meunier (CNRS-Université Lumière Lyon2, FR): The deficit of degraded speech comprehension for adults with dyslexia and its link with the olivocochlear efferent system
Véronique Boulenger (CNRS-Université Lumière Lyon2, FR): Phonological and lexical competitions during speech-in-speech comprehension
Monique Leensen (AMC, NL): Speech-in-noise screening tests by internet; improving test sensitivity for noise-induced hearing loss
---
Last updated: 2010-03-10 by Mark Huckvale